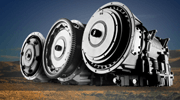 Allison Highway series transmission gets top performance for the most smooth power shifts your Allison Highway Series truck, hauling or construction heavy equipment can experience. Like any hardworking heavy equipment truck, Allison Transmissions are made to perform during the most demanding projects. Stu Import Export has direct knowledge and experience of Allison Transmissions for all types of Allison Transmission series and models.
Whether your heavy equipment application is construction, dump truck, equipment hauling or landscaping the 3000RDS transmission model from Allison Transmission is truly dependable, and if you need replacement or have any questions you can trust Stu Import Export to be there to assist you in replacing your Allison transmissions.
Other reliable and dependable Allison Transmissions include:
4000RDS - Allison Automatic Transmissions for Rugged Duty series such as construction, heavy equipment and models
2200HS - Maximizing fuel efficiency and performance
3000HS - Allison Automatic Transmission for highway series trucks and models
3000MH - Allison Fully Automatic Transmissions for Motor Homes and RV Campers - yes Stu Import Export can get that too!