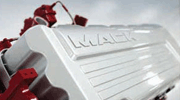 With the wear and tear diesel engine trucks and parts go thru, staying on top of it is key to making sure your diesel engine heavy equipment truck or machine is in top condition and running at peak performance.
Whether you need one, two or three parts or components for your Diesel Engine truck or heavy equipment we can get it for you.
We have extensive knowledge of Aftermarket Mack Truck parts and components - whether be dump trucks, freight liners or construction equipment and keeping them performing at top level will help your profit margin thru fuel efficiency and engine performance.
Diesel Engine trucks today are more technologically advanced, but there's still a vast amount of businesses who rely in older Mack Truck models or other brands and their parts might be hard to find - that's where Stu Import Export comes in to help you get the hard to find diesel engine parts and components for your Diesel Engine heavy equipment, Mack Truck or freight liner.
Powertrains, Axles and fuel related parts for Diesel Engine trucks are some of the most important parts that more often need maintenance and from time to time parts replacement. Give us a call to discuss your Diesel Engine Trucks and Parts solution for either a Mack Truck Diesel Engine Parts, freight liner or diesel engine heavy equipment